O Shifter precisa de dinheiro para sobreviver.
Se achas importante o que fazemos, contribui aqui.
A agência de marketing digital Beutler Ink, sediada em Washington DC, convidou o ilustrador e cartunista Luke McGarry para realizar um resumo deste 2015. Actualidade política e económica, tragédias humanas, personalidades que morreram, polémicas, filmes e séries, conquistas… São vários os acontecimentos deste ano que estão representados numa gigante ilustração.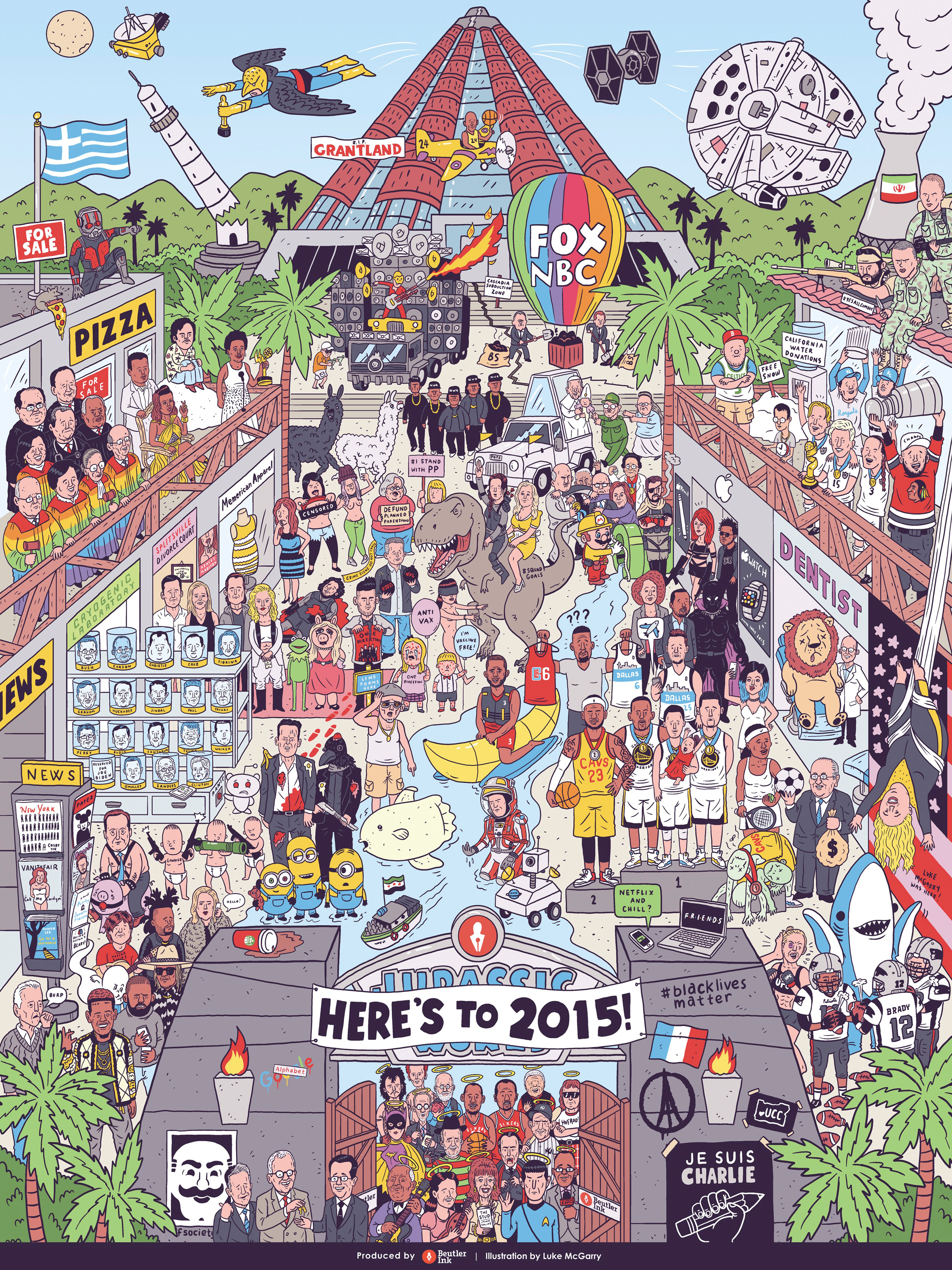 Não há enigmas, nem referências ocultas, mas é preciso um bom olho e uma boa memória para apanhas as 143 referências. Podes clicar na imagem para a veres em alta resolução. De seguida, tens a lista de todas referências que a Beutler Ink e o Luke McGarry colocaram na ilustração: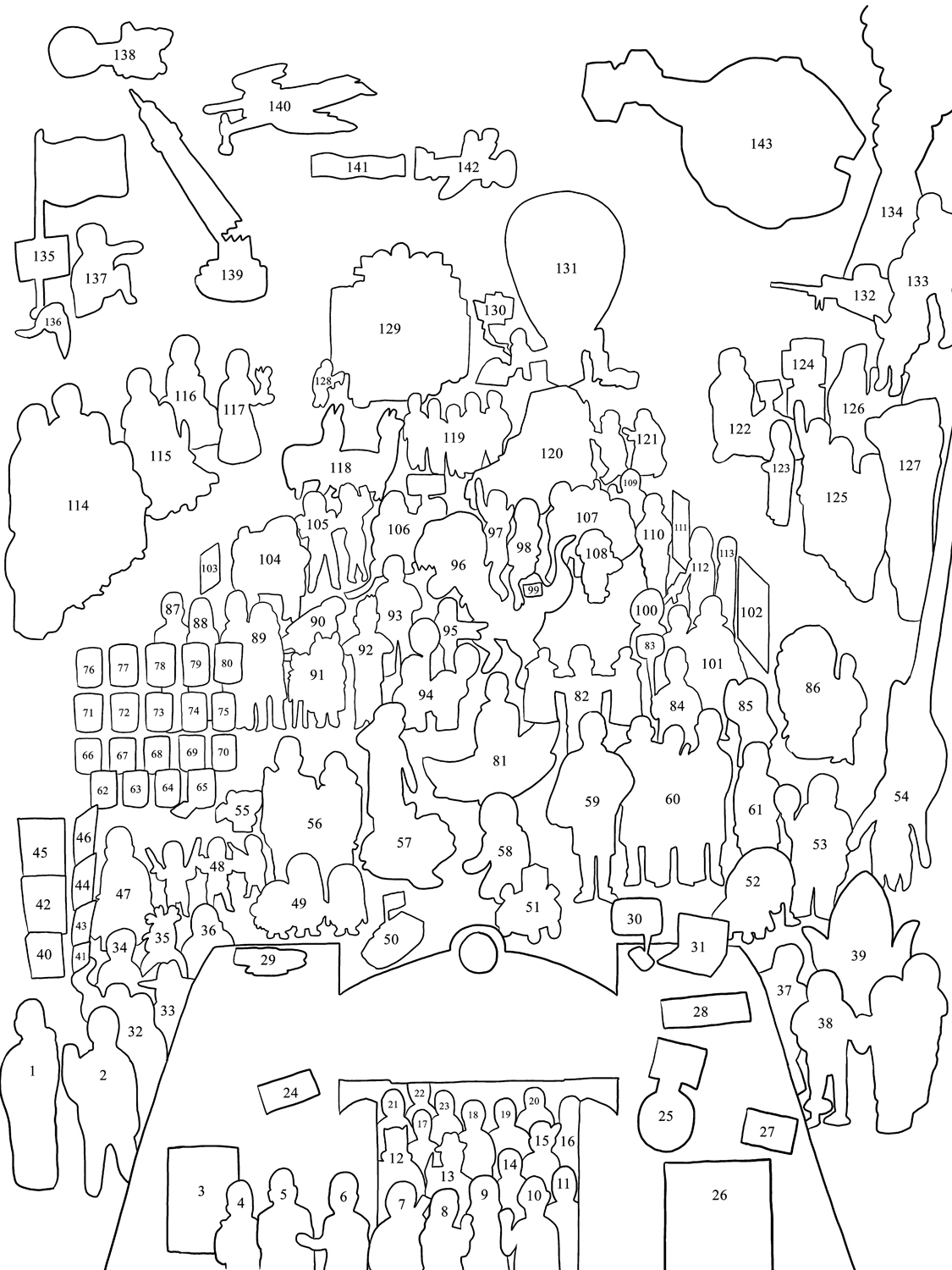 Robert Durst admits to murder in HBO documentary The Jinx
Fetty Wap
Mr. Robot debut
Jon Stewart leaves The Daily Show
David Letterman leaves The Late Show
Stephen Colbert takes over The Late Show
RIP BB King
RIP Jean Ritchie
RIP Jackie Collins
RIP Leonard Nimoy
RIP Stuart Scott
RIP Yvonne Craig (Batgirl)
RIP Wes Craven
RIP Christopher Lee
RIP Yogi Berra
RIP Rowdy Roddy Piper
RIP David Carr
RIP Darryl Dawkins
RIP Moses Malone
RIP Grace Lee Boggs
RIP Phil "Philthy Animal" Taylor (Motörhead drummer)
RIP Scott Weiland
RIP Oliver Sacks
Google creates its new parent company, Alphabet Inc.
Paris Terror Attacks
Charlie Hebdo Attack
UCC Shooting
Black Lives Matter campaigns against violence
Starbucks red cup controversy
#NetflixAndChill
All 10 seasons of Friends released on Netflix
Drake accused of having ghostwriter, but "Hotline Bling" still breaks the internet
Future tops charts with What a Time to Be Alive and DS2
Ryan Adams covers Taylor Swift's 1989
The Weeknd tops the charts
Adele releases huge album after three-year hiatus
Ronda Rousey knocked out by Holly Holm, ending Rousey's 3-year reign as champion
Patriots win Super Bowl amidst DeflateGate allegations
Left Shark dances to its own drummer
Controversy surrounds publication of Harper Lee's Go Set a Watchman
Drudge Report claims Leonardo DiCaprio is 'raped by a bear' in The Revenant
Caitlyn Jenner completes transition
Jonathan Franzen's new novel, Purity, is released
David Beckham is People's "Sexiest Man Alive"
Women who were drugged and assaulted by Bill Cosby pose together for New Yorkmagazine
Marilyn Manson on the cover of Paper Magazine
David Cameron's "Piggate" scandal
Taiwanese Animators tackle Gawker's editorial implosion
Minions released
Syrian refugee crisis
Mars Rover discovers water
The four stiffs that also play for the Cavaliers
FIFA corruption case
Pitch Perfect 2 (depicted: Fat Amy)
Reddit becomes obsessed with a button, panics after AMA coordinator Victoria Taylor is fired
True Detective 2 is disappointing
Boston man can't comprehend a sunfish
Matt Damon stars in The Martian
LeBron James nearly wins NBA championship by himself
Warriors win NBA Championship
Serena Williams completes "Serena-slam" (four Grand Slam victories in a row) before finally losing in semifinals of US Open
Democratic presidential candidate Joe Biden decides not to enter the 2016 race
Dem candidate Martin O'Malley
Dem candidate Bernie Sanders
Dem candidate Hillary Clinton (reading The Skimm)
GOP candidate Rick Perry
GOP candidate Marco Rubio
GOP candidate Rick Santorum
GOP candidate He-Who-Must-Not-Be-Named
GOP candidate Scott Walker
GOP candidate Lindsey Graham
GOP candidate Mike Huckabee
GOP candidate Bobby Jindal
GOP candidate Rand Paul
GOP candidate George Pataki
GOP candidate Jeb! Bush
GOP candidate Ben Carson
GOP candidate Chris Christie
GOP candidate Ted Cruz
GOP candidate Carly Fiorina
Chris Paul rides banana boat
DeAndre Jordan free agency saga plays out on Twitter
Chandler Parsons' airplane emoji tweet
Chandler Parsons
Kylie Jenner runs social media
Cecil the Lion killed by American dentist
Mad Men finale
Jon Hamm & Jennifer Westfeldt split
Gwen Stefani & Gavin Rossdale split
Jon Snow seemingly dies in Game of Thrones
Kermit & Miss Piggy split
Zayn leaves One Direction
Bill Simmons throws bombs at NFL, fired from ESPN
Anti-Vax crusaders bring us back to 19th century
Fifty Shades of Grey hits theaters
Jurassic World hits theaters
Mockingjay Pt 2 / Jennifer Lawrence
Amy Schumer has a great year
#squadgoals
The shifting identities of Rachel Dolezal
Ta-Nehisi Coates wins Genius Grant, authors Black Panther comic
Apple Watch
Ashley Madison leak
The Dress sparks internet-wide debate
#FreeTheNipple
Planned Parenthood defunding / Colorado PP shooting
Tunisian National Dialogue Quartet is awarded the 2015 Nobel Peace Prize
Super Mario Maker
Tu YouYou awarded Nobel Prize in Medicine
Metal Gear Solid V: The Phantom Pain
Apple Pencil released
Taylor Swift, "Bad Blood"
Kendrick Lamar releases To Pimp a Butterfly and is featured on "Bad Blood"
Supreme Court ruling makes same-sex marriage a right
Empire debuts and is smash hit
Narcos debuts
Viola Davis makes moving Emmy speech
Llama chase
Straight Outta Compton released
Pope Francis visits Cuba and U.S.
Kim Davis refuses to issue marriage licenses, maybe meets Pope
Boston breaks winter snow records
Ahmed Mohamed, the "clock kid"
California drought forces water rationing
USA wins Women's World Cup
Kansas City Royals win World Series
Chicago Blackhawks win Stanley Cup
Margarita Guy aka Jimmy Buffett cameo in Jurassic World
Mad Max released (depicted: "Doof Wagon")
New Yorker article about the Cascadia Subduction Zone terrifies the Pacific Northwest
Brian Williams (NBC News) and Bill O'Reilly (FOX News) face fabrication charges
American Sniper is a huge hit
Pentagon opens all combat positions to women (depicted: first two female Rangers)
Iran Nuclear Deal
Greece's Debt Crisis
Pizza Rat
Ant Man released
New Horizon probe completes a Pluto flyby
Nepal experiences deadly earthquake
Birdman wins Oscar
Grantland closes
Kobe announces retirement
New Star Wars film: The Force Awakens
O Shifter precisa de cerca de 1600 euros em contribuições mensais recorrentes para assegurar o salário aos seus 2 editores. O teu apoio é fundamental!